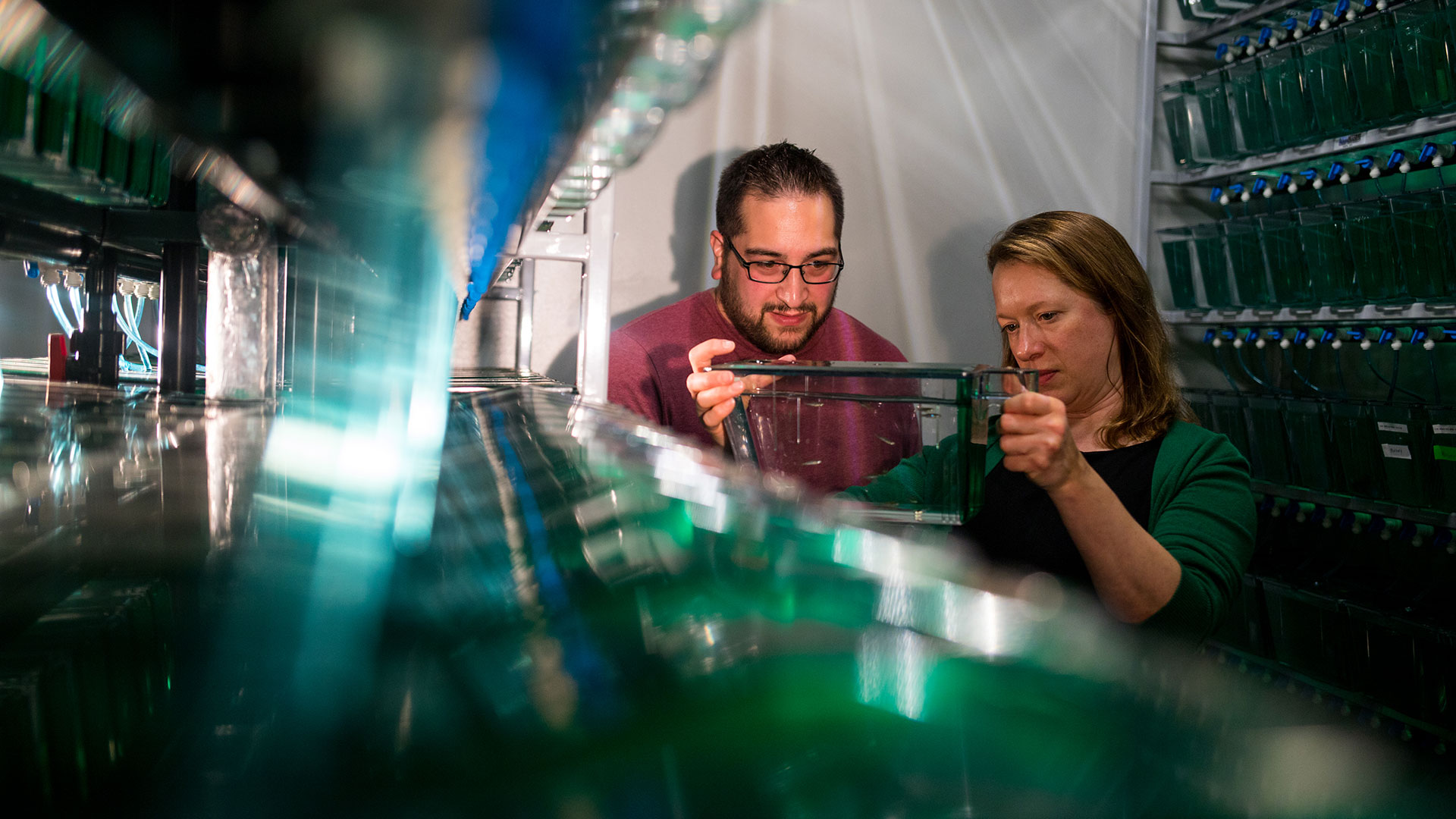 Programs
Bachelor of Arts in Biology
The B.A. in Biology is for students who want a solid background in biology but want less rigorous studies in the supporting sciences. This degree requires less advanced coursework in math, physics and chemistry than is required for the B.S. in Biology. This program recommended for students who want to combine a biology degree with coursework from other disciplines to accommodate their career goals.
Download the B.A. major map (PDF)
Bachelor of Science in Biology
The B.S. in Biology is for students interested in preparing for graduate studies, professional school or entry-level employment in a science-related field. This degree requires more advanced coursework in math, physics and chemistry than is required for the B.A. in Biology. Students will also complete requirements for a minor in chemistry.
Download the B.S. major map (PDF)
Emphasis areas
Students in B.S. program may choose to select an emphasis area; however, this is not required.
Students in all degrees are welcome to explore a biology minor to help them reach their professional goals.
For students interested in a combined bachelor's and master's degree, an accelerated five-year program of study is available.
This is a one-year pre-professional degree program (June to May) that provides students with the broad, general knowledge of human anatomy, biochemistry, cell biology, genetics and physiology that is necessary for successful admission into medical, osteopathic, dental, pharmacy and veterinary programs. Applications are accepted for a Summer term start and the application deadline is May 1.
Students who earn their M.S. in Cell and Molecular Biology will be trained in the fundamental principles of cell biology, molecular biology and biochemistry, and will develop research skills for successful careers as technical specialists or successfully compete for doctoral and professional graduate programs. The M.S. degree in cell and molecular biology is offered as either a research or a non-research (coursework) degree, which may be earned with a bioinformatics emphasis. The non-research degree may be done on a part-time basis.
Co-disciplines
Cell Biology and Biophysics
Molecular Biology and Biochemistry
Seminars
The biology program presents two seminar programs that promote a better and more expansive knowledge of the sciences, explore new discoveries and techniques and provide advice for your scientists.
Biology Seminars are hosted every Thursday from 3:45–5 p.m. during the academic year. Currently, these seminars are held on Zoom. If you would like to attend, please email Mary Flores. 
Intramural Research Seminar Series (IRSS) faculty and research staff seminars are held every Tuesday from noon–1 p.m. during the semester, unless noted. This Fall IRSS will resume in-person in SH 522 and via Zoom simultaneously. If you would like to attend or present via Zoom, please email Jeff Price.
View previous seminars
Research Areas
Biostatistics
DNA-protein interactions
Drug import, export and resistance
Etiology and pathogenesis of disease states
Extracellular matrix
Genomics, evolution and reproductive biology
Global health and population modeling
Mobile devices in health care
Neurobiology and neuroscience
Pathogenic fungi, yeast and molds
Protein x-ray crystallography
Regeneration
RNA: structural modification - RNA-DNA hybrids
Structural biology
Susceptibility testing of pathogens
Virology
Meet Our Faculty